Consulting

As a consultant Donna can provide the following services:
Situation Evaluation: Evaluating situations within your organization to identify where creativity and productivity can be improved.
Team Evaluation (with Alice Fairhurst): Evaluating the diversity and creative styles of teams within your organization to assess their creative potential and to suggest means of improving creativity and productivity.
Problem Solving: Working directly with teams in your organization to increase creativity and productivity.
Donna Shirley, center, describes the Mars Exploration Program to Senator Dianne Feinstein and Nobel Laureate
Dr. David Baltimore, President of the California Institute of Technology.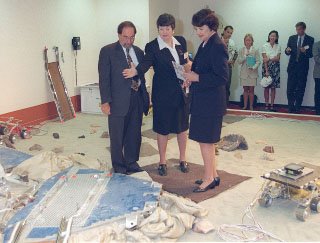 Donna Shirley, Director of the Science Fiction Hall of Fame, with one of the exhibits in "Homeworld"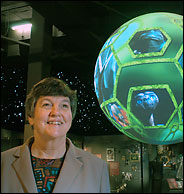 Specific elements of consultation in Managing Creativity include:
The use of models and other techniques for stimulating group creativity.
Communication techniques for creative teams.
Building and leading creative teams.
Exploitation of diversity for effective creative teams.
Planning and managing creative enterprises.
Daring to be creative - overcoming obstacles to your personal creativity.
Career Planning - Discovering and fulfilling your passion.
Fees:

For more information on fees, to receive a sample DVD, or to book an engagement, you can e-mail Donna Shirley at
dshirley1941@gmail.com
[ Home / Speaking / Consulting / Training / Donna Shirley]